Your partner for 3PL and 4PL service
Nijhof-Wassink has extensive experience with the distribution of animal feeds. Depending on your needs, we can take over the planning of your animal feed transports (in its entirety or in part) from you.
In addition, you can outsource all or part of your transport to us to be even more flexible for your customers. With the assurance the fleet offers and the skilled drivers of Nijhof-Wassink you can deliver whenever your customers want it.
We aim at a full partnership in which, together with you, we work on process improvement and achieving added value. As a Fourth Party Logistics (4PL) provider we will, if desired, take the complete logistics chain off your hands.
Maximum delivery service and efficient planning
Our planning department is manned seven days a week and 19 hours a day. To ensure the maximum availability of our fleet, we drive in double shifts per truck and our night shift loaders take care that our drivers can hit the road immediately. This way we can deliver whenever your customers want it. As an international carrier with extensive knowledge of the local markets, Nijhof-Wassink has locations throughout Europe and an extensive network of clients and strategically located transport partners. In combination with our flexibly deployable fleet, this enables us to achieve a high load factor and a minimum of empty kilometres. This way we also offer a low-cost alternative to own-account carriers.
This is what our strong network offers you:
Optimisation of your transportation costs
Reduction of empty kilometres
Reduction of CO2emissions
Quality and safety for your bulk goods
Quality, reliability and safety are paramount in our way of working. We are certified according to GMP+ B1 (storage and transhipment) and B4 (transport). Our drivers are specialists in loading, transport and unloading of animal feed and additives.
The drivers of Nijhof-Wassink are at home in the agricultural world. They are from the region, know your customer and are your and our ambassadors. And they dispose of the best equipment: modern silo trailers and specially developed compartmentalised semi-trailers in which 6 to 12 different products can be transported. With this we bring your raw materials, animal feed and fertilizers as agreed to the place of destination: in the right quantity, according to the strictest quality requirements and just-in-time.
Nijhof-Wassink is a frontrunner in the field of safety. We work according to a strict Behaviour Based Safety (BBS) protocol. This means, among other things, that our drivers are actively trained in identifying risky situations at production sites and farmyards.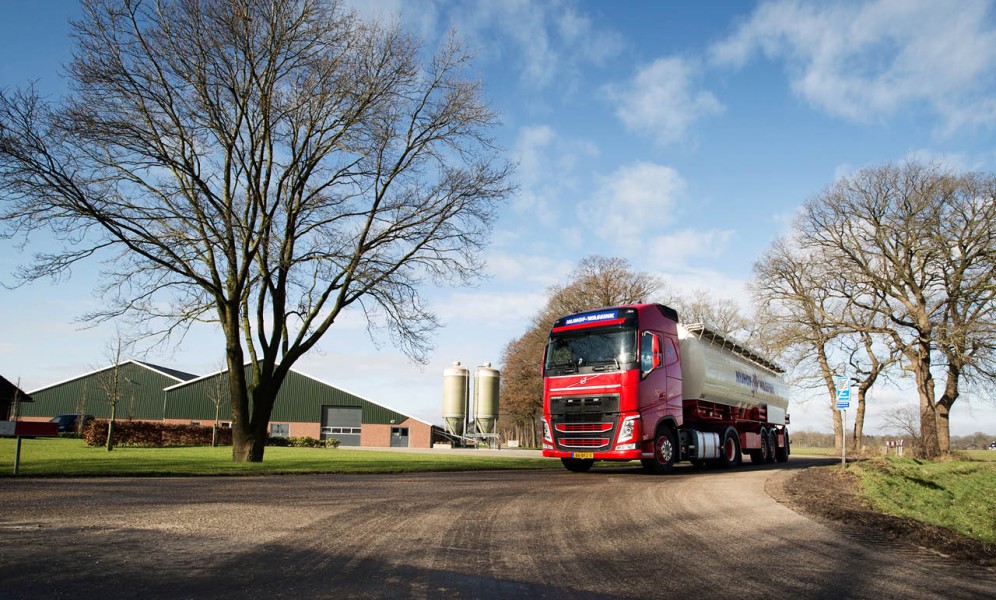 Assistance with storage, transhipment and planning
Nijhof-Wassink offers various storage and transhipment options for raw materials and additives for animal feed production. In our silo parks in the Netherlands your bulk goods are stored in a safe and dry environment.
SilFit: effective stock management
Together with SilFit, a 100% subsidiary of Nijhof-Wassink, we developed, for the monitoring of stock of bulk goods in silos, an innovative system for stock control as well as journey and route planning. With the fully automated silo content measurement system you have real-time information about the stock levels at different storage locations and you can adjust your production more efficiently to the actual demand. With SilFit the number of empty kilometres and rush orders in the animal feed market is significantly reduced.
Transport Management system
With our Transport Management System (TMS) we provide planners, clients and agricultural entrepreneurs with real-time information. Data that is shared, includes order status, shipment status, expected time of arrival (ETA) and current location of the semi-trailer truck. The TMS can be linked to almost any existing planning and ordering system and is part of our innovation concept Nijhof-Wassink LIVE.
Fertilizers Transport Portal
The Fertilizer Transport Portal is a complete platform for the planning and execution of fertilizer transports. In spring, the agricultural sector purchases large quantities of manure and fertilizer. A peak moment of a large number of transport activities that brings a lot of pressure to all parties in the supply chain. The Fertilizer Transport Portal of Nijhof-Wassink offers the complete solution to ensure that this always hectic operation runs as smoothly as possible. Customer orders arrive via an interface, after which Nijhof-Wassink produces the translation into logical journeys that are easy to combine. The composed journeys are placed in a 'closed' market place from which the pre-selected carriers, including Nijhof-Wassink itself, can choose the journeys. This provides the option that Nijhof-Wassink decides in consultation with the customer which journeys will be available for which carrier(s). Current information about ETAs is automatically adjusted and shared with the customer. The responsibility for arrangements regarding delivery guarantees lies with Nijhof-Wassink. The Fertilizers Transport Portal is the latest enhancement to our innovation concept called Nijhof-Wassink LIVE.